Czech gays may now have their civil unions recognised. Not exactly marriage, but close. The vote was passed yesterday, overturning a veto by President Vaclav Klaus.

He had argued the legislation amounted to excessive regulation by the state of people's private lives.
A bullshit argument if I ever heard one. Most likely he just doesn't like gays because he thinks they're yucky. Or "fuj" as you would say in Czech.
In a statement released after the vote, Mr Klaus said the result was not a personal defeat but rather "a defeat for all of us who believe that the family in our society is fundamental, unique, unrivalled".
Gays are "fuj" again. The only advice to people who are bothered by this is to say, "just don't think about it". You won't notice anything at all. The only people who it's going to make any bit of difference to are the people who will use it, and they are not opposed to it.
The BBC's Rob Cameron in Prague says Czech society is one of the most secular and sexually liberal in Europe.
True, and true in a way. The Czech Republic in some ways is known to be a little behind on issues like feminism, racism and gay rights, in some ways, in other ways no. Of course, that was then. Before
Vladko
.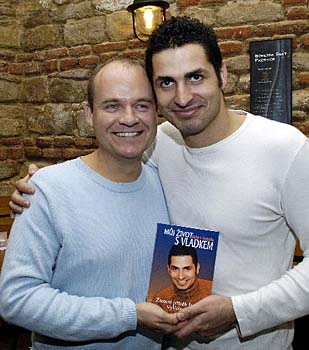 Vladko Dobrodovsky (right) and boyfriend Robert. Vladko is the winner of last year's Vyvoleni, the Czech Republic's first reality show. Oh he flamed, he ranted,he argued, he cleaned, he cooked, he cut off his long black mane, he went off about every little thing and developed a crush on co star Michal, but people loved him.
If you want to thank/blame anyone for this turn of events, he's the guy to call.